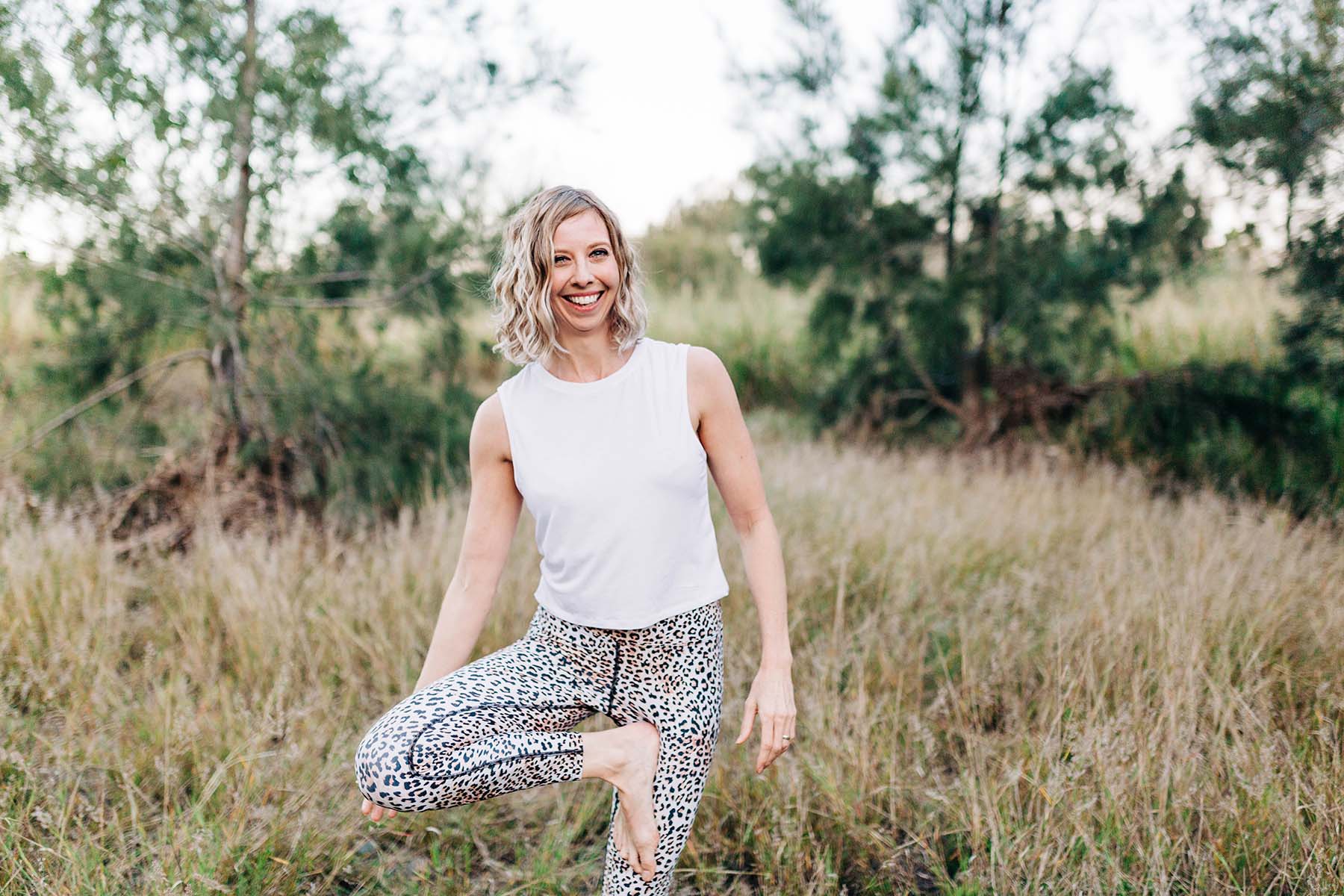 Learn tools to improve overall health & wellbeing
Yoga Therapy empowers you to use the principles of Yoga and apply a range of Yoga practices to enhance your health and wellbeing.
Because the body and mind affect one another, through Yoga Therapy we can explore our ingrained behaviours (physical and mental) and slowly begin to challenge and change those that aren't serving us to allow for a more joyful, connected way of interacting with the world around us.
Our private Yoga Therapy sessions are based in our beautiful Sunshine Coast studio with our incredibly passionate Yoga Therapist, Jasmine.
What is Yoga Therapy?
Yoga Therapy supports and enhances your physical and mental wellbeing by applying the principles of Yoga tailored to your individual needs.
Delivered through private, therapeutic sessions, Yoga Therapy is a process that empowers individuals to progress toward improved health and wellbeing through the application of the teachings and the practices of Yoga.
The Yoga Therapy approach is holistic, as we believe that everything is interconnected – so what might show up as a physical issue in your body will affect your mental, emotional and spiritual layers, and vice-versa.
For this reason the Yoga Therapy process is very unique and specific to each individual and even if two people were to have the same health diagnosis or life issue they are trying to work through, they may develop two very different supportive practices in their Yoga Therapy sessions as we are working with the whole person.
Yoga Therapy tools
Some of the tools you can expect to use in Yoga Therapy sessions might include:
Yoga poses (asanas)
Breathing techniques (pranayama)
Concentration, visualisation and meditation techniques
Sound techniques
Yoga philosophy – looking at how the mind-body affects one another.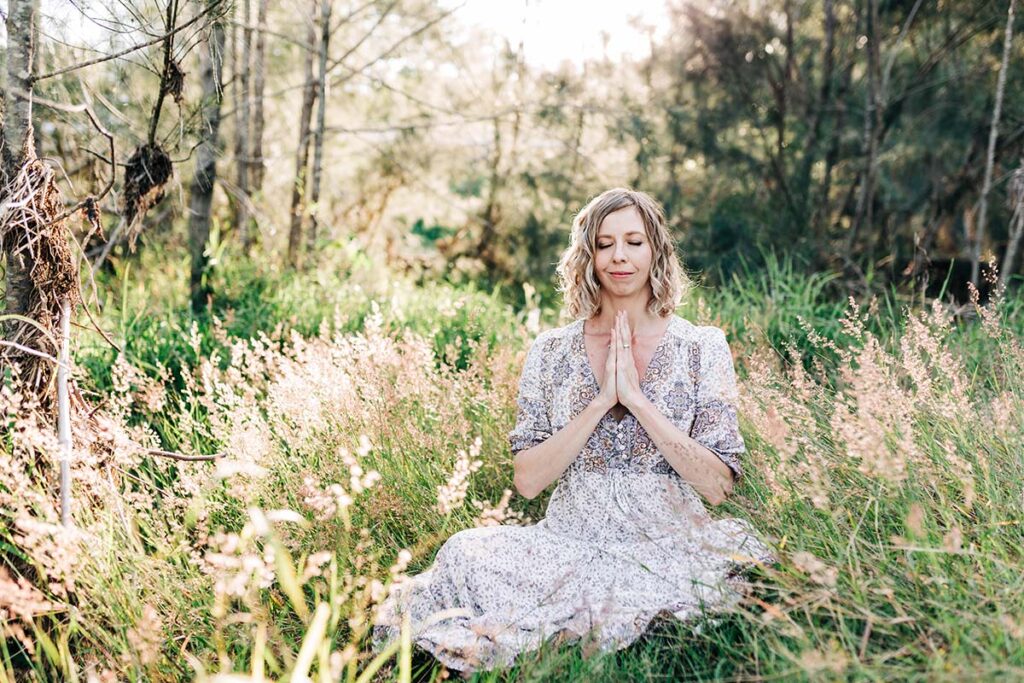 Benefits of Yoga Therapy
There are a wide range of benefits used for Yoga Therapy, these include to:
Better manage and overcome insomnia, stress, anxiety and depression, often alongside work with a psychologist, psychotherapist or counsellor
Better manage key transitions in their lives, such as, changes in key relationships, changes in profession, moving, bereavements, receiving a health diagnosis, or becoming a parent/carer
Prepare for childbirth and motherhood (read more below)
Better manage a physical issue in their body, for example, rehabilitation from an injury or surgery, back and pelvis issues, chronic pain or fatigue, auto immune issues (including asthma and breathing difficulties), digestive issues, and cancer
Support healthy ageing, including osteoporosis, osteoarthritis, balance and fall prevention
Support and manage mental and physical disabilities
Be able to modify and adapt a yoga practice that better suits their individualised needs.
It is common as a result of a regular yoga practice to not only see benefits in your physical health but in the relationships you have with others and with yourself.
Yoga Therapy is designed to work alongside other other health plans and practitioners, not in place of them. For this reason Jasmine will always encourage clients to share with their health practitioners what they are exploring in our Yoga Therapy sessions and often refer clients on to other health providers for additional support.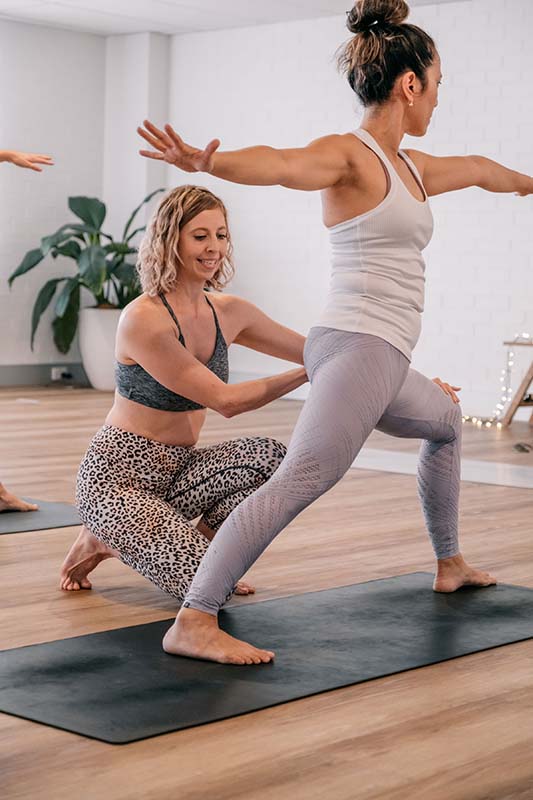 What to expect in a Yoga Therapy session?
In Yoga Therapy we work with all of the layers of your being – our body, breath, intellect, personality and character – in yoga these are called 'Koshas'.
We use a variety of yoga tools to tap into these layers, including yoga poses, yoga breathwork, mindfulness, visualisation and meditation practices, mantras (sounds and set phrases) and mudras (hand positions that allow energy to move in a certain way through your body).
You'll also be taught practices to take home and refine so that you have both a preventative tool kit for keeping on top of and maintaining your health and wellbeing and a 'yoga first aid' tool kit you can use when in more difficult moments in your life.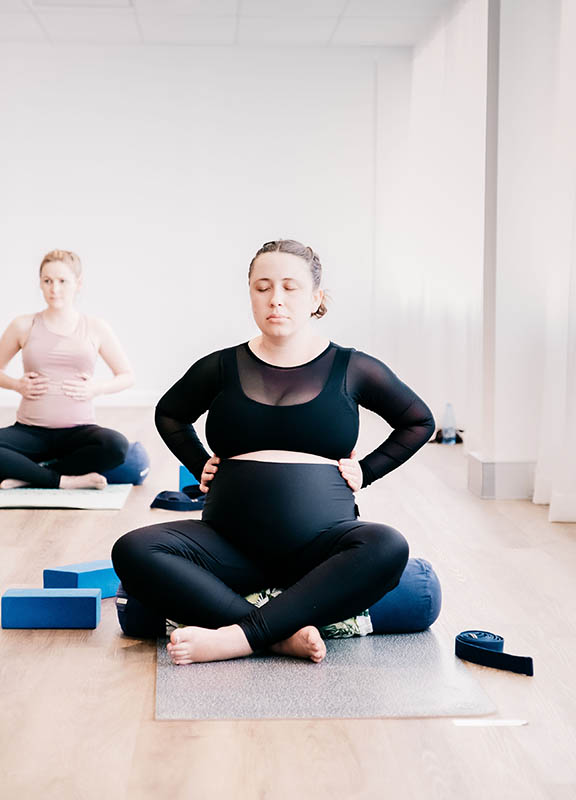 Yoga Therapy for Pregnancy, Childbirth and Motherhood
Yoga Therapy can be incredibly beneficial for helping women through their pregnancy, preparing for childbirth and for adjusting to the seismic transition into motherhood on the other side.
Yoga Therapy can be used for:
Preparing for childbirth – managing fears and anxieties you may have about the birthing process, learning how to better manage pain and physically preparing you body to be strong and open for childbirth
Recovering from childbirth – processing your birth experience and starting to rebuild your strength and energy once more in your body
Preparing for Motherhood – we can read all the books, and listen to all the podcasts, but the best preparation we can do for this role is the work on ourselves. Yoga Therapy can provide a platform for this work and give some helpful tools to manage any fears and anxieties we might be harbouring as we get closer towards becoming a mother
Managing Matrescence – the transition into Motherhood. Yoga Therapy can be used as an effective way to understand our responses to motherhood and to start implementing tools that allow us to better adjust to this new role with a sense of peace and ease rather than inner conflict
Pricing
Initial Yoga Therapy Consultation Session (75-90 minutes): $140
Single Yoga Therapy Session (60 minutes): $110
Yoga Therapy sessions are conducted in a private one-on-one setting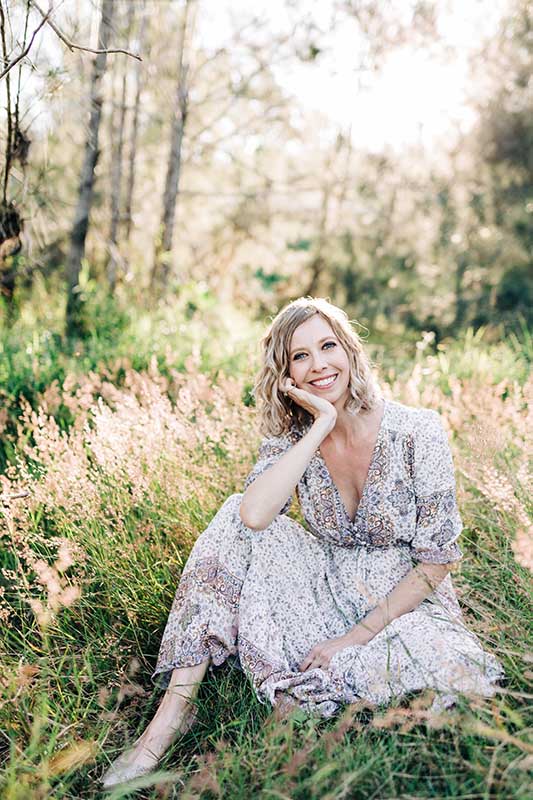 About Jasmine
Jasmine is a 1000+ hours (Yoga Australia accredited) qualified yoga teacher and Yoga Therapist. She has worked with a range of clients to use the tools and practices of yoga to better support and improve their mental and physical health.
As a recent new mother herself, she has a particular passion for supporting women on their journey, physically and mentally into motherhood. She used her Yoga Therapy training and further studies and research to overcome her own struggle with perinatal anxiety and to support her to have a childbirth that was both an empowering and positive experience for everyone involved.
She runs classes and courses and free community circles that support women in this way, as well as her private Yoga Therapy sessions.
She is a big advocate for using multi-modalities to support our health and development, knowing that this provides a person with a wider range of accessible tools they can then choose from to suit what their current needs are. She has herself worked with Yoga Therapists, Women's Health Physios, Chiropractors, Osteopaths, Reiki practitioners, Counsellors and Psychologists to support the work she has done in her own health and self-development. She therefore often refers on to allied health professionals and will happily work with any current practitioners you may be working with to help get you the best result.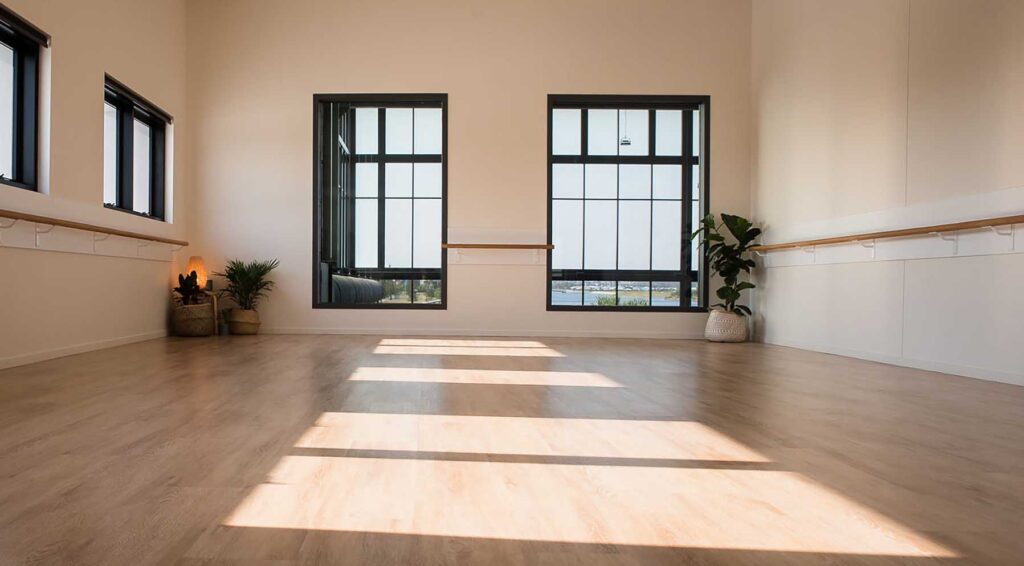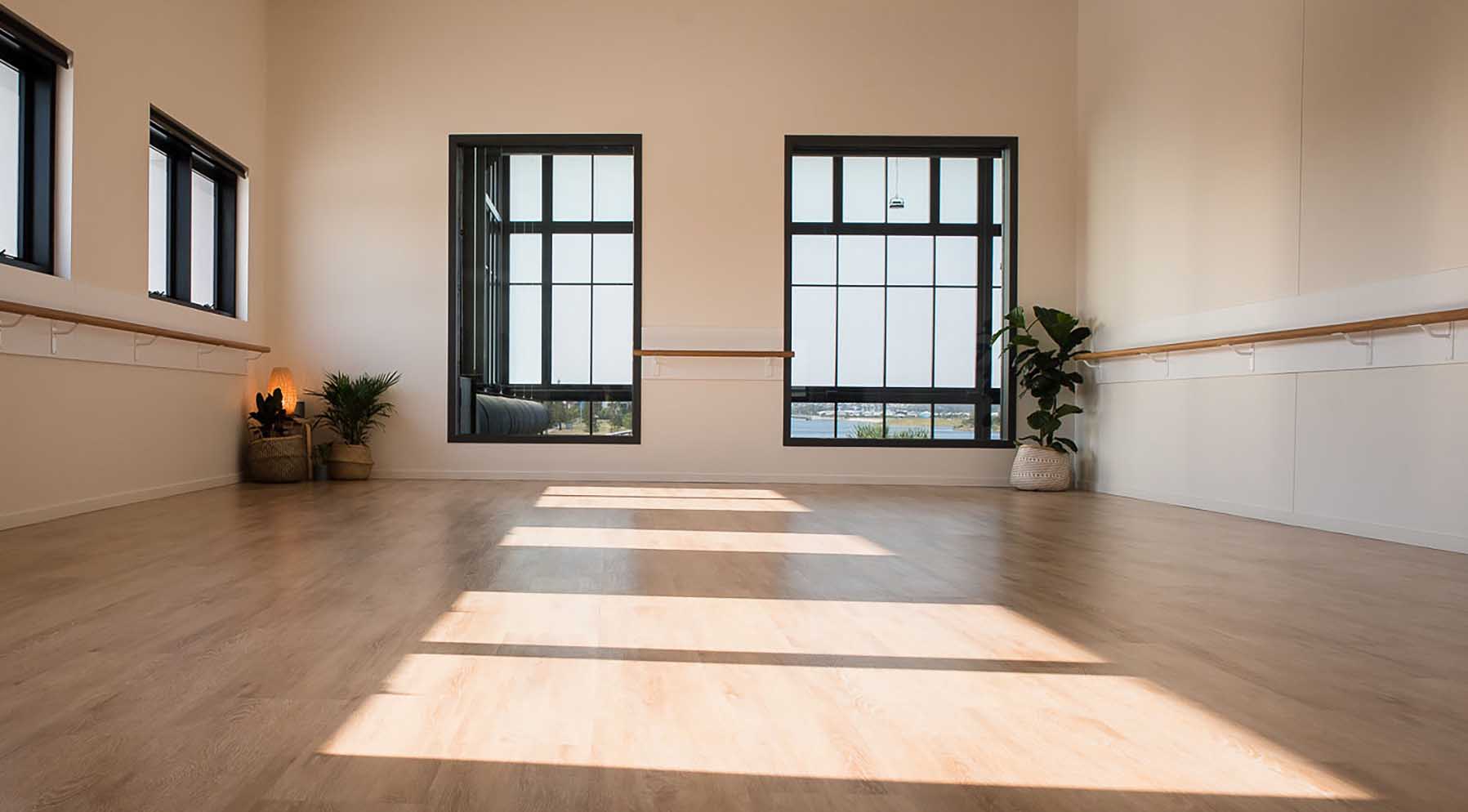 Our Sunshine Coast Studio
Morning Light Studio is based in Bokarina overlooking Lake Kawana.
With high ceilings and wall-to-wall windows creating a naturally light-filled it's hard not to feel instantly calm and relaxed in this beautiful studio.
Book a session with Jasmine
Yoga Therapy sessions are available Monday and Tuesday from 10:45am to 4:15pm and Thursdays from 6:45pm to 7:45pm.
Please complete the form below and including information on which dates/times best suit you and Jasmine will be in touch to schedule a time.
Classes for:
Mindfulness
Mind, body & soul
Toning & strengthening
Stability & flexibility