23apr10:30 am1:30 pmEmbodied Chakra & Yin Sound JourneyWeaving meditation, mantra and sound with a deeply nourishing Yin Yoga practice.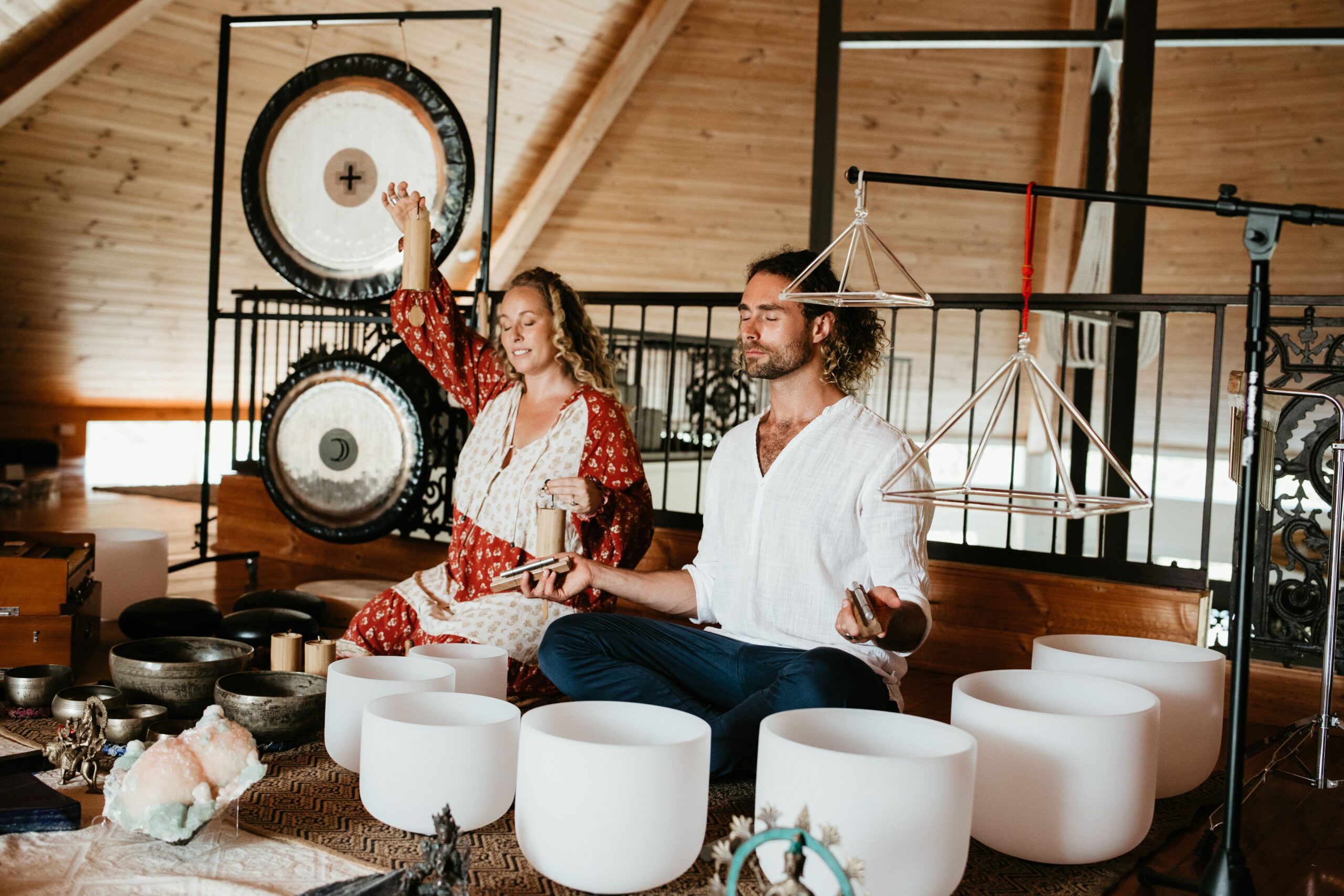 Event Details

Join Seriya Cutbush and Matty Rainbow from Byron Bay, as you are offered the opportunity to come back to you and tune into the wisdom of your body. This special experience is an embodied fusion of gentle movements and opening specific to each chakra, ceremony, energetic activation and sound.

It begins with a ceremonial style of intention setting weaving meditation, mantra, aromatherapy and a drum journey to expose the deepest potentials of our own psyches, dreams and aspirations.

You will then be gently guided through a deeply nourishing Yin yoga immersion to restore the body, relax the mind and calm your senses. You will be invited throughout each of the long-held yoga poses to receive adjustments to your physical, emotional and energetic body's with massages and reiki. Guided meditation, Yogic Philosophy breathwork will also be added to support your journey.

This yin yoga sequence is specifically devised to balance each of your seven main chakras. Through physical openings in your facia and muscular systems, visualization, bija mantras, affirmations and personal reflection; you will have the opportunity to receive a depth of healing that far exceeds the physical benefits of yoga.

Following the Yin Yoga, Matty and Seriya will continue to maintain a beautiful container of nurture, restoration and nourishment as you, your auditory senses and cellular system becomes tantalised in the ever transformative world of Sound and Vibration. The vibratory essence of Clear Quartz Crystal Singing Bowls, Tibetan Bowls, Native American Flutes, Medicine Drum, n'Goni, Hand Pan, Toning and Overtoning, Tuning Forks, Chimes, Gongs, Tamboura, Harmonium and many more sacred instruments are used to support you in going into a deeply relaxed and healing state.

Seriya and Matty bring together a wealth of experience in facilitating sound journeys and holding space together and thrive off the balancing of the masculine and feminine balance in all aspects of their work and lives. As healers of various alternative modalities, they are passionate about exploring parts of the being to clear, enliven and heal the emotional and mental bodies. Sound paired with Yoga is yet another subtle vibrational tool to be able to explore these parts of ourselves and come back to our truth.

Please bring a yoga mat, blanket and your lovely selves… Arrive 15 minutes beforehand to get yourself set up and register. If you feel drawn to bring your favourite crystal to charge and cleanse, it can be powerful to have them by your mat for your practice.

**Please note that this event sold out last time so book your tickets as soon as you have your YES!

Investment: $75 *Members receive 10% off

When: Saturday 23rd April 10:30am – 1:30pm

Where: Morning Light Studio
Time

(Saturday) 10:30 am - 1:30 pm
Location

Morning Light Studio

The Sports Hub, Level 1, 26 Main drive
Organizer
Sound Healing AustraliaSeriya and Matty bring a beautiful Sound Healing Experience to the Sunshine Coast. What is Sound Healing? Seriya and Matty have been providing Sound Healings throughout the Byron Shire, Gold Coast and Brisbane areas for 8 years, as well as at various Yoga festivals and regularly at The Crystal Castle. They have a passion for crystals, healing and sound and utilising the body's natural ability to bring us back to balance and health. Sound Healing is a powerful subtle-energy therapies that make up the field of vibrational medicine. That sound is called resonance, the frequency at which an object naturally vibrates. Using various tools, including the voice, Sound Therapy can guide participants into entrainment and a deep theta brainwave meditative state. In this space combined with intention, healing can occur. Sound Therapy is effective in not only achieving a state of relaxation but it also has a way of moving through blockages in the body. Sound Therapy has been known to help treat such conditions as stress, anxiety, high blood pressure, depression, sleep disorders, pain and autism. The subtle body holds imbalances and traumas that can eventually manifest in our physical bodies, which is why it's important to look at healing and balance not only from a physical perspective, but as a complete holistic experience that includes mind, body and spirit.