15jul6:00 pm8:00 pmKundalini Yoga and Sound Immersion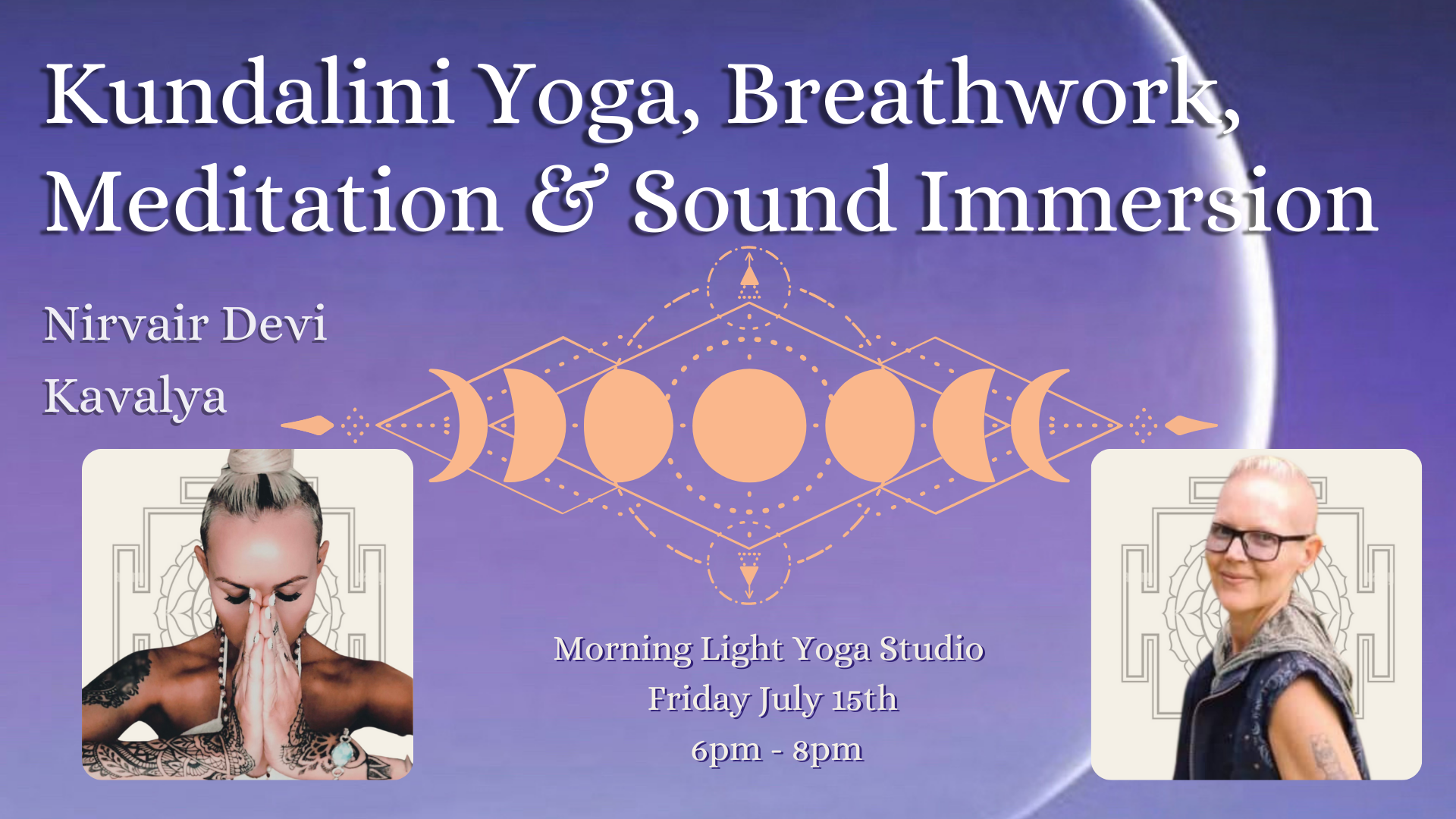 Event Details

🌀 𝘑𝘰𝘪𝘯 𝘶𝘴 𝘧𝘰𝘳 𝘵𝘩𝘪𝘴 2 𝘩𝘰𝘶𝘳 𝘞𝘰𝘳𝘬𝘴𝘩𝘰𝘱 Enter into the sacred candle lit space of Morning Light Yoga Studio for this sublime soul Journey, one where you can journey deep into practice, to receive clarity & renewed sense of self purpose.

🌀 We will raise our frequency through the practice of Kundalini Yoga then be bathed in celestial sounds with sacred instruments which will soothe & reset your system. Allow yourself to align & move into a state of deep restfulness.

Kundalini Yoga and Sound Healing are two very potent and powerful modalities.

🌟 𝗔𝗰𝘁𝗶𝘃𝗮𝘁𝗲 your Life Force Energy with Kundalini Yoga, Breathwork, Sound Codes & Meditation and then be bathed in the healing frequencies of a deeply regenerative Sound Immersion.

🌟 Throughout the Sound Healing we will be using instruments such as the Sacred Gong, Medicine Drum, Tibetan Bowls, as well as a variety of other healing instruments and soundscapes, we guide you on a celestial journey of vibrational healing. We use locally recorded nature sounds as part of our Soundscapes which complement our instruments, blanketing you in the Earth's protective frequency.

🌟 𝗔𝗹𝗹𝗼𝘄 yourself to come back to your body and authenticity and release old patterns, negative thoughts and emotions with the ancient modality of Kundalini Yoga, Breathwork, Mantra & Meditation.

How does Kundalini Yoga benefit you?

🌀𝘽𝙖𝙡𝙖𝙣𝙘𝙚𝙨 𝙩𝙝𝙚 𝙣𝙚𝙧𝙫𝙤𝙪𝙨 𝙨𝙮𝙨𝙩𝙚𝙢
🌀𝘼𝙡𝙡𝙚𝙫𝙞𝙖𝙩𝙚𝙨 𝙨𝙩𝙧𝙚𝙨𝙨 𝙖𝙣𝙙 𝙖𝙣𝙭𝙞𝙚𝙩𝙮
🌀𝘽𝙪𝙞𝙡𝙙𝙨 𝙨𝙩𝙧𝙚𝙣𝙜𝙩𝙝, 𝙢𝙚𝙣𝙩𝙖𝙡 𝙖𝙣𝙙 𝙥𝙝𝙮𝙨𝙞𝙘𝙖𝙡
🌀𝙌𝙪𝙞𝙚𝙩𝙨 𝙩𝙝𝙚 𝙢𝙞𝙣𝙙
🌀𝘽𝙤𝙤𝙨𝙩𝙨 𝙩𝙝𝙚 𝙢𝙚𝙩𝙖𝙗𝙤𝙡𝙞𝙨𝙢 𝙖𝙣𝙙 𝙙𝙞𝙜𝙚𝙨𝙩𝙞𝙫𝙚 𝙨𝙮𝙨𝙩𝙚𝙢

When: Friday 15th July

Time: 6-8pm

Investment: $45

*If there are Covid restrictions in place we will offer a full refund.
𝐏𝐥𝐞𝐚𝐬𝐞 𝐛𝐫𝐢𝐧𝐠 𝐚𝐥𝐨𝐧𝐠 𝐚 𝐲𝐨𝐠𝐚 𝐦𝐚𝐭, 𝐛𝐥𝐚𝐧𝐤𝐞𝐭 𝐚𝐧𝐝 𝐰𝐚𝐭𝐞𝐫.
Time

(Friday) 6:00 pm - 8:00 pm
Location

Morning Light Studio

The Sports Hub, Level 1, 26 Main drive
Organizer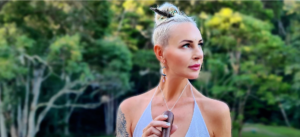 Kundalini Yoga Spirit JourneyIt was through my own healing journey, & the intense longing to recall my connection to source, spirit, & to spiritual family, community, that led me to become a Kundalini Yoga teacher. My passion for Kundalini Yoga has played such an integral part in my life, it quite literally turned it around 360 degrees. My gifts are that of connection, via the modalities of Kundalini yoga, Sound Healing, Mantra, Breathwork & Meditation. I lead workshops throughout Australia & I am currently based in the Sunshine Coast. I also lead Kundalini Yoga Spirit Journeys; these Yatra journeys are held around the world at sacred sights, where I offer a deep dive into Kundalini yogic experiences. ​ It was the listening to my heart and following my dream, which lead me to create Kundalini Yoga Spirit Journey's, I realised the importance of sangat coming together & embarking on these deep journeys of soul. That sometimes we need to momentarily step away to open deeper into our truth, to meditate in ancient surroundings, to sit in silence in the mountains & to laugh & dance under the stars. Over the years I have has continued honing knowledge of Kundalini yoga, training through ongoing Kundalini Yoga teacher training, Yoga Therapy, Sound Healing, Breathwork & Osho meditations. I've travelled extensively around India, where I was deeply immersed in teaching the practice of Kundalini Yoga, spending most my time in Amritsar, India. Sound healing, music & mantra are intrinsically tied to my classes, I use sound healing throughout my Kundalini yoga classes, playing the gong, crystal bowls, harmonium & the medicine drum. Staying in a heart centred place is of real importance to me, & it takes courage this work, we all have stories & healing work to be done. So we all keep peeling back the layers & reminding ourselves to drop the old conditioning & to daily walk the path of Aquarian age, the spiritual path. For me that is to teach, connect, uplift & serve. Kundalini Yoga uses active and passive asana-based kriyas, pranayama, mantra & meditation which target the whole body system to develop awareness, consciousness and spiritual strength. Kundalini Yoga focuses on self-awareness and delivering an experience of your highest consciousness