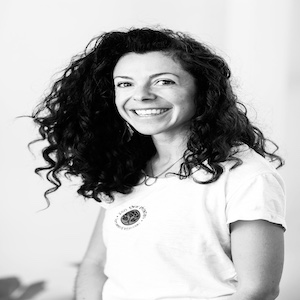 Gabrielle's interest in yoga peaked in 2010 when she discovered Vinyasa Flow. Having come from a background in contemporary dance and Massage Therapy, Gabrielle was immediately taken by the synergy of technical and creative elements explored through the postures and breath. You could say that this, combined with an overwhelming sense of calm
discovered in the wake of each class, left her immediately hooked! Gabrielle has since delved into the vast world of embodiment, bodywork, and yoga with over 550hrs of training in the areas of Hatha, Vinyasa, Yin, Zenthai Shiatsu, KaHuna, and more.

Gabrielle believes that the body is the vehicle for transformation and as such, aims to use insights gained through bodywork and dance to frame instruction, guiding others into a deeper sense of presence and connection.
Yoga has an incredible capacity to turn up the volume on our sensitivity. Engaging the inner-eye in self-study and expanding our awareness. Gabrielle is interested in how these interoceptive skills manifest in how we show up in our daily lives, asking the question, how can we reclaim agency – over our bodies, over our
choices, over our lives?
Expect dynamic and holistic classes that will gently expose your
limits in the spirit of self-discovery, curiosity, and mindfulness.