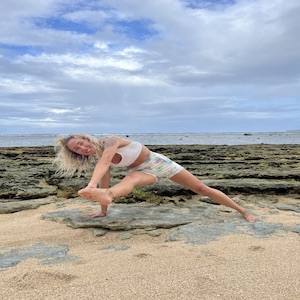 "Make art with your body and mind and express yourself through movement."
With over 15 years of experience in a wide variety of movement modalities such as Ashtanga & Vinyasa Yoga, Yin, Pilates & Barre Kim finds pure joy in being able to share this passion with each and every one of her students.
Kims' journey started way back in Sweden as an aerobic dancer which later continued into becoming a PT. Kim kept exploring & learnt different movement modalities for a few years as she wanted more. More consciousness, mindfulness and awareness in her physical practice.
Kim saught after balance between strength, flexibility, exertion and release, to restore a sense of calm to her body and mind. Today, her classes are informed by a combination of styles. She has never had so much fun in her own practice and loves sharing this with her students.  Kims' classes offer combinations of creative strength and mobility exercises, dynamic movements and a mindful paced breath.
Kims' mission is to encourage and support you in your journey to a strong healthy body by empowering and equipping you with fun & healthy movement patterns.
"Unlocking your inner fire, finding ease through movement, combining styles to build a fun, invigorating & creative practice."